Legendary cars don't build themselves. Particularly when they're period custom cars or traditional hot rods. It takes a talented cast of cast of characters working as a dedicated team. Which is precisely what you'll find at Mercury Charlie's. A crew that cares deeply about keeping old cars on the road and making automotive dreams come true. Jalopy lovers. Radical-custom lovers. Salt-lake racing fans. Period purists and hardcore hot rod revivalists. Craftsman who are building custom cars and hot rods the only way they know how. Passionately, and with deep respect for those who came before them.
For central Texas legends like Gary Howard and Vernon McKean, who set the custom bar for a generation to follow. For Jimmie Vaughan, who's a custom car and blues guitarist virtuoso. For Rod Powell, Sam Foose, Lee Pratt and Gene Winfield, who helped define the meaning of the term, "timeless". These are all the individuals who together set the bar for Charlie and his crew. Whose cues and influences have shaped the custom-car hobby. Charlie will be the first to tell you that it's an honor to honor the period-custom greats and proudly carry the tradition into the future. But it's no solo mission. Teamwork is everything.
So without further delay, meet the team.
---
CHARLIE BUILDS TRADITIONAL HOT RODS

AND PERIOD CUSTOMS, PERIOD.
Ask Mercury Charlie about pretty much anything, and you'll hear a great story. But if you ask him about hot rods and custom cars, you're in for a real treat. To say he's a walking encyclopedia of old cars gives encyclopedias too much credit. Charlie eats, sleeps and lives old school hot rods and customs. Custom tricks and performance tweaks. Gow jobs. Jalopies. Barn finds and bench racing. Charlie knows every trick in the book and you can bet your bippy he's used more than a few of 'em at one time or another.
---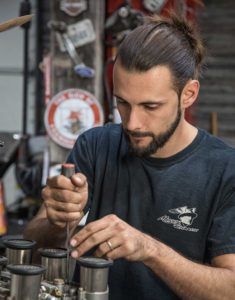 CHRIS SLUBAR,
SHOP MANAGER | HORSEPOWER WRANGLER
   It seems both fitting and ironic that Chris scored his first lick of speed from a Del Rio used car dealership that was later revealed to have been in a illicit drug operation. The car was a 1965 Malibu SS. Chris was 17 at the time. There's no question who got the better end of that deal.
He still has the car and has owned it for over half his life!!
---
ROXIE NAVA,
Roxie, our front of-the-house point person, her job is to keep the back of the house hoppin' and the customers upfront happy. We're lucky to have this lady on board. We just so happen to share a real appreciation for people who help us keep the lights on.
Reach out to Roxy if you're looking for a Mercury Charlie t-shirt, a custom Mercury shift knob, a tour of the shop, or a custom car built to your exact specifications. She'll find you the right person to talk to, even if it isn't her.
---
---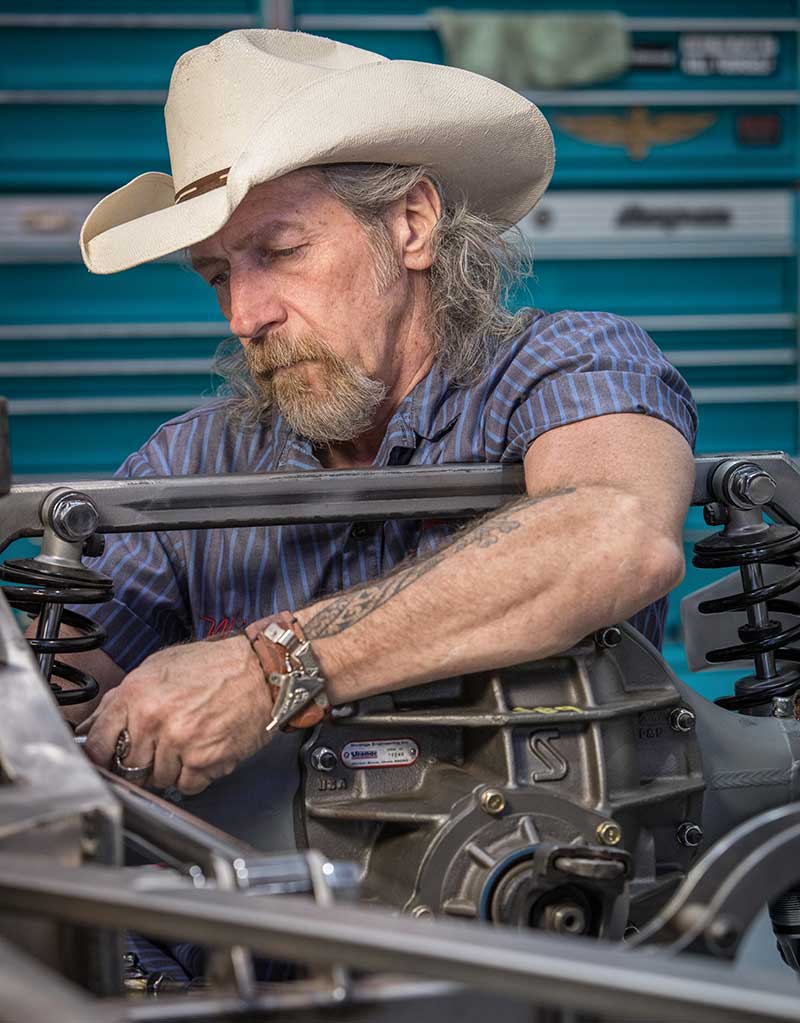 WILL PULLEY,

NICKNAME: PAPA WHEELIE
If you ever purchase a tape measure and you darkly suspect it's off by one or two thousandths of an inch, compare it to Will Pulley's eye.
Stance. Proportion. Backspacing. Chops. You name it, Will's eye is better than any spirit level and it's a secret sauce that comes in quite handy around here. It's as predictable as taxes and cheap-wine hangovers. But enough about that. Let's get to know Will a little better.
---
KAMRON CRAGLE,
Bio Coming soon!
---
MARK SLUBAR,
BUSINESS CONSULTING MANAGER & AUDIO DESIGNER
If you need some help getting your business organized, grow or more bump in your trunk he is your guy! You might ring us and he's on the phone, but more than likely he's upside down under a dash plugin some wires.
---
---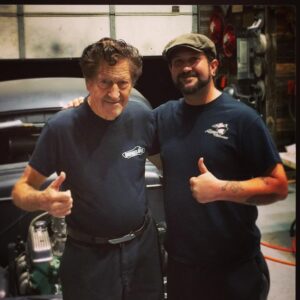 RILEY NINGEN,
METAL SMITH ARTIST
This man doesn't need a bio, all his words on in is work!
Give him a follow!…….
Facebook: https://www.facebook.com/riley.ningen
Instagram: https://www.instagram.com/rileyningen/
---
JOHN,
NICK NAME: WHIPPER SNAPPER, JK
The youngest of the shop, determined to learn what is needed and move forward. Hard listener and determined to get the job done with what ever it takes. The man to ask to throw on some tunes or to joke around with.
---
---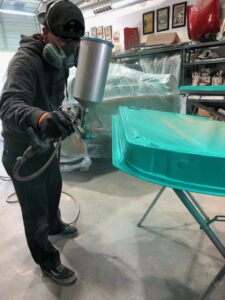 KENNETH OBRECHT,
PAINTER I BODY WORK
This man can paint anything, anywhere! The determination he has is unstoppable. A man with dedication to slaying some paint! He's been in the industry, from painting semi's to beautiful classics.
Give him a follow to see his work!
Instagram: https://www.instagram.com/kennethobrecht/
---