This is a full width text block. Click the edit button to change this text.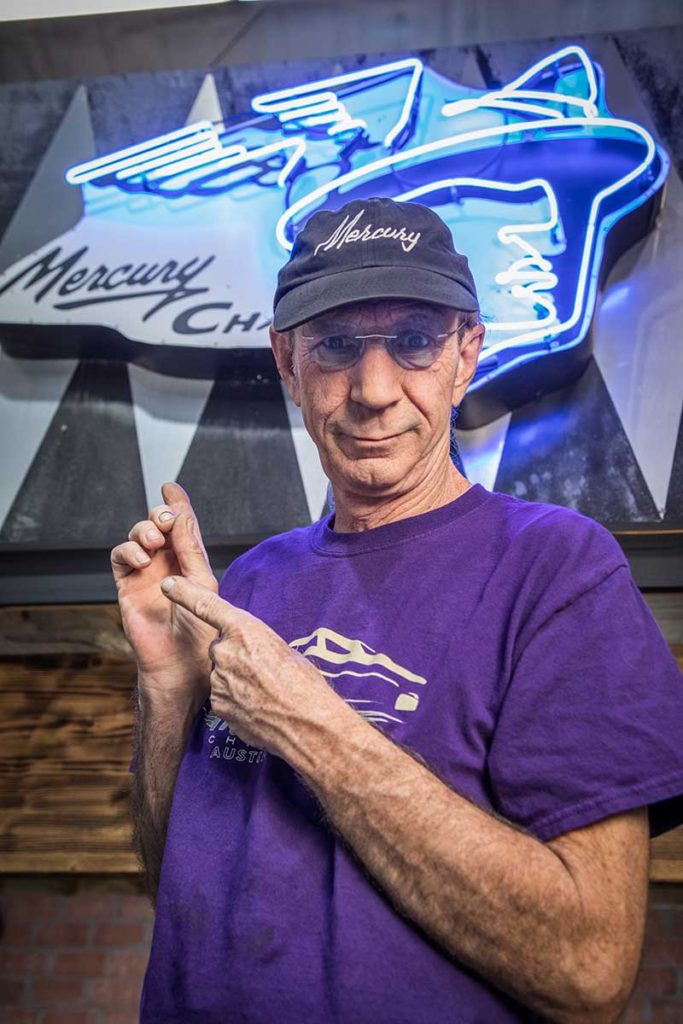 Ask Mercury Charlie about pretty much anything, and you'll hear a great story. But if you ask him about hot rods and custom cars, you're in for a real treat. To say he's a walking encyclopedia of old cars gives encyclopedias too much credit. Charlie eats, sleeps and lives old school hot rods and customs. Custom tricks and performance tweaks. Gow jobs. Jalopies. Barn finds and bench racing. Charlie knows every trick in the book and you can bet your bippy he's used more than a few of 'em at one time or another.
But that's not the point we're trying to make here. The point is that Mercury Charlie is a Central texas icon. A modern-day builder who profoundly respects the past.  A man with a keen eye for talent and a rolodex that reads like a who's who of the custom car universe. That said, you'll never hear Mercury Charlie call himself a legend. Not a chance. He's got too much class to do that. But others say it about Mercury Charlie constantly. In fact, just a few years back the Austin Chronicle named Charlie the "Hot Rod King" of Austin. He didn't let it go to his head. Charlie is the type of king who refuses to act like royalty. Modest and well-mannered, he prides himself on treating people right. He's a Texan, through and through, a genuine Austinite and can hold court and keep it weird with the best of 'em.
Mercury Charlie has way too many legendary friends to honk his own horn. Texas music legends like Jimmie Vaughan, Charlie Sexton, and Junior Brown, to name just a few. Heck, Junior Brown will tell you that Mercury Charlie is his best friend. Junior's wife, Tanya Rae, will tell you that Charlie is Junior's only friend.
SWEET NADINE DIDN'T DRESS HERSELF.
Charlie's pals are the real legends as far as he's concerned. Consider the central Texas custom-car alumni who helped build Charlie's passion-purple '51 Mercury. Luminaries like Gary Howard provided his superlative body and paint skills, while Vernon McKean, a bonafide custom upholstery legend, handled her interior. Billy "Roach" Cockrell built Nadine's flathead, and Texas guitar legend Jimmie Vaughan was instrumental in her planning stages.
Simply put, she didn't build herself, and Charlie is quick to give credit where it's due. If you missed it, "Sweet Nadine" graced issue #36 of The Rodder's Journal. But Nadine is just one of the remarkable rides that Mercury Charlie has staked his reputation on.
THE TALL T THAT STARTED A CRAZE.
fifteen years ago, and then driven 1,500 miles to the 2003 West Coast Customs' car show in Paso Robles. It showed up with Von Franco flames, a purple 327 built by Billy "Roach" Cockrell, and a lavender glitter-and-pearl-white vinyl interior by Fat Lucky's. But most of the work was Charlie's. The car became an overnight success. It was the only T coupe at the show, and subsequently cropped up in magazine coverage.
It single-handedly put T Coupes back on hot rodding's radar. Since then, dozens of Model Ts have been built and shown across the country. As for Charlie's old T, it's still on the road to this day, and currently owned by a fellow resident of Dripping Springs, Texas. If that isn't living proof of Charlie's ability to build real-world drivers, we don't know what is.
CARS AND STARS. IN PRECISELY THAT ORDER.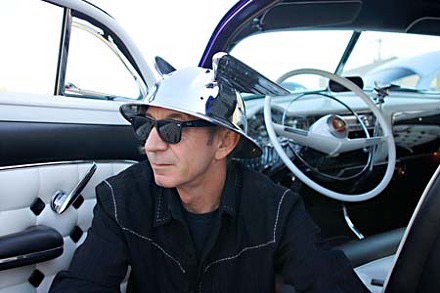 Charlie has been the driving force behind a proverbial motorcade of remarkable car builds. A chopped '51 Merc for Jesse James. A custom '51 Mercury for renowned Austin neon artist, Todd Sanders. Actor and musician Charlie Sexton owns a customized '50 Mercury that Charlie built years ago. Why, Charlie even helped Johnny Depp track down a vintage Mercury of his own back in the day.
Charlie puts cars first. Before celebrity. Before glory and claiming credit. Building beautiful vintage American cars come before all else. And that we mean more than just Mercs his  renowned Tall T.
Charlie fully restored a '59 Chevrolet El Camino for the owner of Austin's popular Guero's restaurant, his first full build while helming South Austin Speed Shop. Charlie has a way of putting vintage cars first. People who love old cars love Mercury Charlie. Because he doesn't just build old cars. He returns them to their rightful place in history, channelling influences gathered from a lifetime of reading little books and witnessing the custom car cavalcades. He lives, breathes, and loves vintage American cars. Always has, always will.
---
TODAY'S FORECAST: OVERCAST, WITH A 100% CHANCE OF VINTAGE MOTORING.
Charlie's daily driver is a '57 Ford Fairlane that he drives rain or shine. Charlie also takes "Sweet Nadine" out for regular spins. Like on sunny days when the Texas sky isn't cryin' Or when his favorites are playing at C-Boy's or the Continental Club.
Charlie takes fierce pride in creating real-world drivers. In building what he loves and driving what he builds. There are a lot of custom car builders who are happy to slap LS drivetrains into cool old cars and call it a payday. Not Charlie. To him, the sound of a loping cam, a throaty exhaust, and the honest bouquet of vintage horsepower is what gives a steed heart and soul. Letting technology rule the roost is just not Charlie's bag.
---
CUSTOM RIDES SHOTGUN, AND TECHNOLOGY TAKES THE BACKSEAT.
Though he's happy to perform upgrades like disc brakes, air suspensions, and AC systems, Charlie and his crew resist robbing vintage cars of their character for the sake of modern conveniences. Backup cameras, nav systems and Bluetooth technology are sacrilege, as far as this crew is concerned. And defeats the purpose of owning a vintage ride.
Customizing beloved American cars with respect for tradition and a true sense of style is what Charlie does. Paying homage to the styling studios of Virgil Exner, Bill Mitchell, and Harley Earl, while adding subtle custom tricks and touches that make a car truly unique is Charlie's calling.
---
FRENCHING, AND OTHER WORLDLY SKILLS.
Dropping, chopping, nosing and decking. Louvering, lowering, decking and shaving. Frenching, pancaking, and peaking. Massaging tired metal back into shape. Shooting pearls and flakes, fades, and panel paint. You name it, Charlie and his crew have done it, and can do it for you.
What they aren't doing is chasing the latest trends or hopping on bandwagons. Charlie is perfectly happy letting others fritter with fads. Traditional period customs is Mercury Charlie's forte. His True North. Building real-world cars that return you to simpler times when you step on the pedal. Maybe the truth is, a lot of car builders just don't care that much about timeless car design, about the way things were, about tradition.
Maybe they're more caught up in putting ridiculous horsepower in the hands of customers who have no idea what to do with it other than it rather than power-park their rides at shows and trailer them creations around the country behind fully-loaded SUVs or dually pickups.
---
CHROME WON'T GET YA HOME.
Charlie would rather see you driving the custom cars and hot rods that he builds. That's just who he is. If that sounds like an idea you can get behind, reach out to Mercury Charlie, or better yet come see him in person. Bring that dream that's been stored in the back of your mind for far too long. Charlies loves a good dream.
Almost as much as he loves making them come true.